Stickers - Braille
Total ID are now able to provide clear customised Braille stickers which enable the print underneath to still be visible. They are quick and easy to apply and very cost effective when compared to the cost of printing Braille directly onto a card.

The most economical option is to have a generic message for the cards, as added personalisation can work out expensive. Also, the amount of text that will fit onto a credit sized card is limited and, hence, the sticker will fit 4 lines of 13 Braille characters (unlike the traditional alphabet). However, there is condensed vocabulary with Braille so a single character may represent two or more letters – or a whole word.
The stickers can be used on most clean, dry surfaces and, therefore, are not limited to use just with plastic cards. For more information on other applications please contact us.
We use Unified English Braille (UEB) unless Standard English Braille (SEB) is requested but we are more than happy to help you get the most suitable layout.
The minimum order quantity is a pack of 50.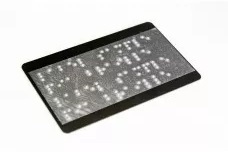 83 x 40mm is the most appropriate size to stick on the back of an ID card but we can offer different sizes if required.
For more information and help with your requirements just call our friendly team on 0800 588 4000, email [email protected] or use our Contact Us form.